Gentle Giant™ 6000 Series Semi-Automatic Wheelchair Hoists
Braiden International Ltd have currently stopped manufacturing the Gentle Giant™ 6000 Series hoist.  
Featuring a 'World First' Wheelchair Hoist Safety Barrier!
This unique safety barrier prevents a wheelchair from leaving the vehicle when the wheelchair hoist platform has been lowered below the vehicle floor level.
Some of the Gentle Giant™ features:
» Bi-folding platform reduces installed height and aids vision.
» Lighter weight improves vehicle stability.
» Semi-automatic design ensures exceptional reliability.
» Contrasting colour on safety barriers for high visibility.
» New Zealand made, ensures reliable spare parts, back up service and technical advice.
» Powdercoated finish.
» Handholds on PSV model (available as a cost option on other models).
» Open mesh platform design allows stones, etc, to drop through and aids wheelchair traction.
» Custom build options.
» Extensive service agent network throughout New Zealand.
» High standard of workmanship ensures superior quality and finish.
» Hoists fit neatly inside vehicle, away from road grime and external damage.
Emergency exit
In the case of an emergency, a quick easy exit is possible by just simply pushing the wheelchair platform outwards manually.
Full platform semi-automatic Model IFP6000
This internally mounted hydraulic unit has been a proven winner over the years. It caters for all types of manual and electric wheelchairs. The platform is bi-folding which allows the unit to remain very compact, giving ease of handling and good vision through the rear window of the van. This unit also features a world first safety barrier.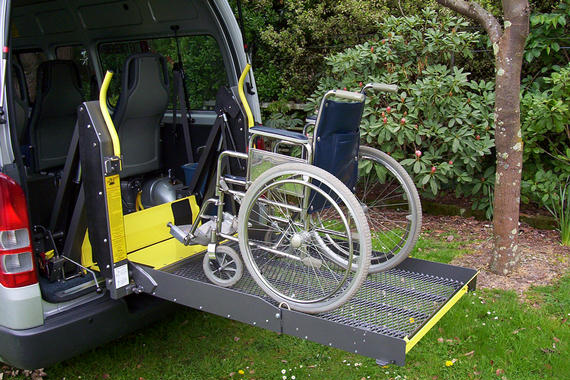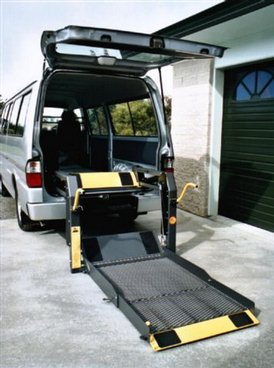 Full platform semi-automatic Model PSV6000
This lift has a longer platform than the IFP6000 and is also fitted with fold down handgrips.
Taxis:
The PSV6000 is ideally suited for taxi use where a longer platform is required to cater for electric scooters.
Access platform semi-automatic Model IAP6000
This unit has all of the characteristics of the full platform unit, with the exception of the platform area. The centre of the platform has been removed to leave a clear space of 265mm in width. This allows access through the closed hoist for hand luggage and parcels.
"U" shaped platform
The IAP 6000 Series offers another 'World First' with its unique "U" shaped platform. This concept allows the caregiver to walk easily through the centre of the wheelchair platform to deliver the wheelchair in and out of the vehicle when the platform is at the vehicle floor level. Being able to push the wheelchair into the rear of the van by walking directly through the platform behind it and not having to push from the side, can be a huge benefit.
Full platform semi-automatic Model CUSTOM6000
This hoist can be manufactured especially to meet the client's requirements; the platform can be wider or narrower than the IFP6000 and PSV6000 series.
All of the above hoists are manufactured to comply with the strict requirements of the Australian and New Zealand Standards for wheelchair construction and design. The units are finished in a graphite ripple powder coating and are built to give many, many years of durable service.
Specifications
Power: Electro-hydraulic motor.
Hydraulic Pump: 12vdc, 90amp max., 950 psi.
Hydraulic Rams: 50mm bore, single acting.
Load capacity: 300kg.
Hand Pump: Manual handle operation.
Pressure Release: (DOWN) Manual valve type.
Weight (IFP & IAP): 125kg.
Weight (PSV & ILP): 130kg.
Cycle Time: 3 seconds unfolding, 8 seconds lowering, 8 seconds raising.
Please note:
The minimum inside dimension between smaller wheelchair wheels for safe use on the IAP6000 type platform hoist, is 330mm.
Fold down handgrips (not always shown), are a standard feature on PSV6000 series hoists.
Due to ongoing and continuous product development, Braiden International Ltd reserves the right to make changes to illustrations and specifications without notice.